Yasui (安井, Yasui?) is an old police officer working with Takai.
Appearance
Yasui is an elderly man of a slightly stocky build, with short, choppy gray hair and prominent wrinkles around his face. He's seen wearing a white dress shirt with a formal pale brown blazer.
Personality
Yasui is laid-back and friendly in comparison with Takai. He's a skilled and clearly experienced police officer, so he handles situations calmly but not entirely unemotionally, as he shows some kindness to those like Keisuke Suga who need it in the moment.
Synopsis
2021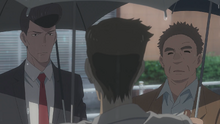 Yasui and Takai are first seen chasing the host who cornered Hina Amano, eventually getting the man to stop running so they can question him about Hodaka Morishima. Takai shows him a CCTV image of Hodaka pointing a gun at him, and interrogates him about what he knows. The policemen then head to a restaurant and discuss Hodaka over ramen, concluding that he's likely a runaway.
Much later, Yasui visits Keisuke at his home asking after Hodaka. The two converse for a while about Keisuke, who then starts to cry.
After Takai allows Hodaka to escape his custody, Yasui joins his partner in the chase to Hina's tower. He tries to stop Hodaka when Takai is apprehended by Keisuke, but is jumped by Nagi Amano which allows Hodaka to escape.
Trivia
Yasui's name contains the kanji for "safe" (

安

yasu) and "well" (

井

i).

He shares the final kanji of his name with Takai.